Easy File Shredder Features
Easy File Shredder is an all-in-one solution for individuals and businesses wanting to securely shred confidential files and clean-wipe hard drive free space to ensure that no private files can be recovered.
Shred Files
Easy File Shredder shreds custom files beyond recovery using advanced data deletion algorithms approved by the military and government organizations. Deleting files with Easy File Shredder means they are gone for good.
Shred Free Space
Easy File Shredder can shred hard drive free space to get rid of traces of all previously deleted files. It uses DoD 5220.22 and DoD 5220.22-M shredding algorithms, which guarantee maximum security. Shredding the free space will not affect any existing files.
Ease of Use
Easy File Shredder is very easy to use. Shredding files or free space is an easy three-step process. All you need to do is launch the program, select the files to shred and use one of Easy File Shredder's algorithms.
More Features
Easy-to-use interface
Multiple preset shredding methods
Support for internal and external drives
Support for removable media (SD Flash, Compact Flash, USB drives)
Shreds up to 10 files using the trial version
Scans for deleted files for permanent deletion
Fool-proof warnings before deleting any files
Custom shredding settings to fit your needs
Protects system files from being removed by mistake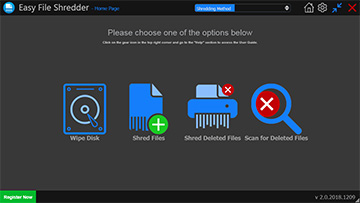 Compatible with:
Windows XP, Vista ,7, 8 & 10 (32/64 bit versions)
* HDD, SSD and USB flash drive supported